New 180 Watt PLL AM/FM Stereo Conversion
Keep that original look - Replace that old sound!
Have your old radio converted to PLL AM/FM Stereo with an output power of 45 watts per channel. Our board supplier has just introduced a new conversion board that uses Phase Lock Loop technology to keep you locked on station and a more powerful 4 channel audio amplifier. This new board will bring your old radio up to state of the art performance. We can convert both 6 and 12 volt, negative or positive ground radios.
1948 Mopar Model 802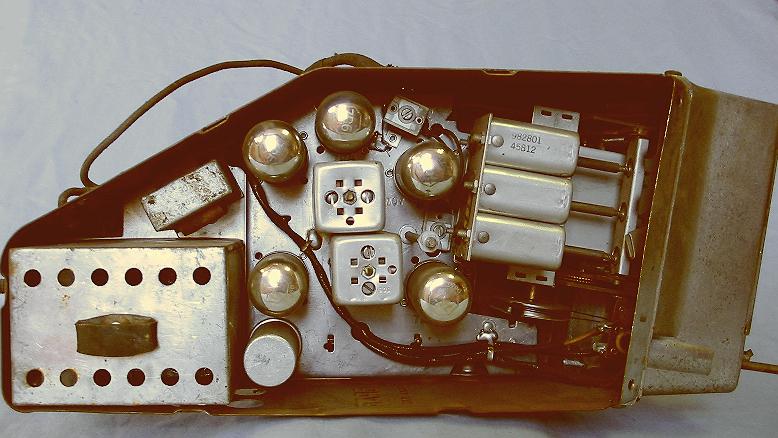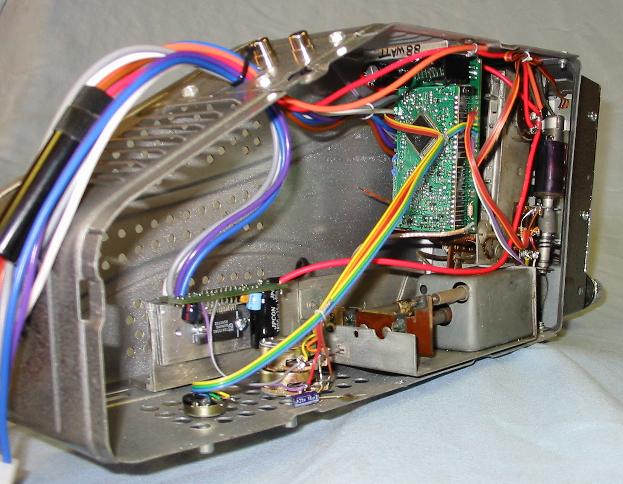 Before After
1965 Ford Mustang
This radio started life as an Ford Factory AM radio. It was converted to AM/FM Stereo with aux inputs. This customer requested that we relabel the dial face with both the AM and FM dial markings. This can be done on any radio that has it's dial numbers printed on a metal panel behind the dial glass. Dial markings moulded into the plastic lens or etched on the glass dial cannot be altered. If you look carefully, you can see the small status LED indicator installed between the 108 and 16 on the far right hand side of the dial. (See 1966 Chevy radio for description of the status LED)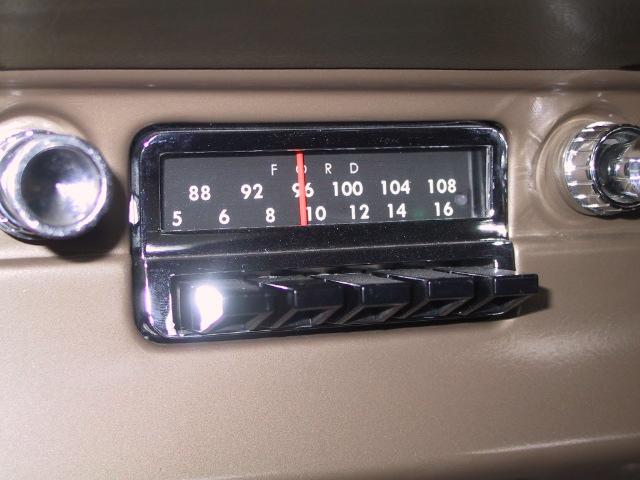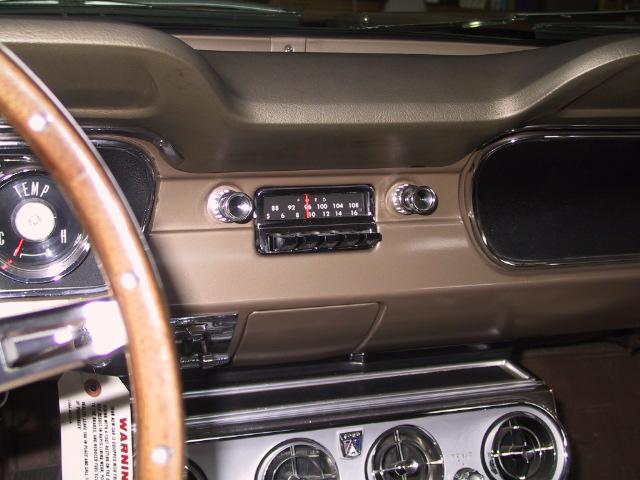 1935 Ford Radio
This radio was converted using only the original control head. A new smaller enclosure for the electronics was fabricated for the conversion electronics. This process keeps the original tube AM radio intact and can be swapped back into the car should the customer decide to return the car to pure stock operation. We have found this to be the best solution as the old 1930'3 and 40's radios are very scarce. Note the added balance and tone controls mounted on the lower right corner of the new radio box.

Delco 1966 Chevrolet AM Radio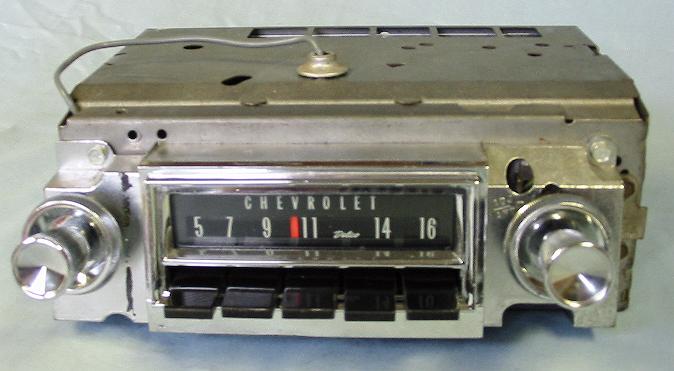 This Chevy radio has been converted to AM/FM Stereo. The only change to the face is a small LED just past the 16 behind the radio dial on the above radio. This LED lights green for FM, yellow when tuned to a stereo FM station and red for AM. As you can (can't) see, it does not show when the radio is off. This LED will go out when the AUX input is activated.
We start the process by removing the old AM radio electronics from the case.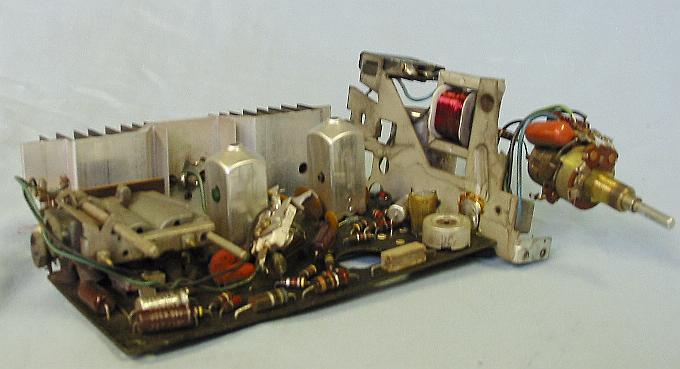 The old mechanical tuner unit is cleaned, adjusted and lubricated.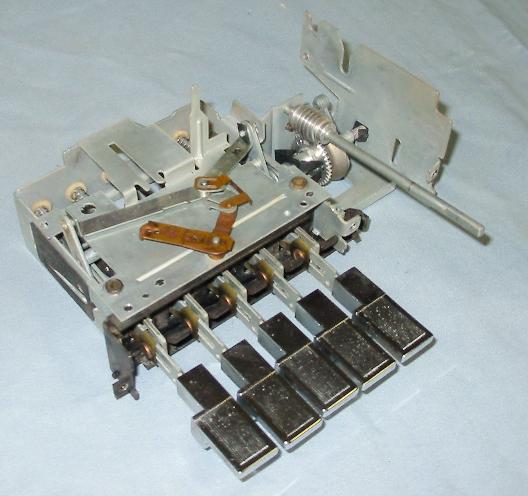 The new electronics are installed in the original case.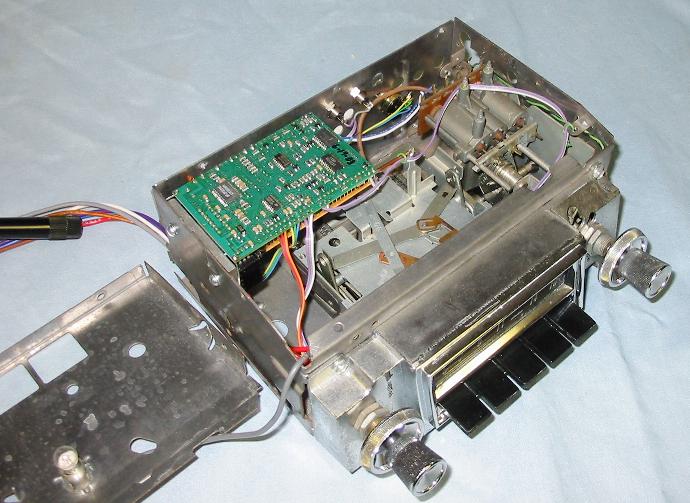 The visible radio cosmetics are cleaned and polished and the dial pointers are painted. We make your radio look as good as possible. (Rechoming and replacement reproduction parts availale at extra cost). The face plate and dial remain unchanged. Only the insides change - and of course the sound quality. Our conversion radios carry a full 1 year parts and labor warranty.
Basic conversion for 12 volt operation starting as low as $385.00 for push button
radios 1956 and later. Call for pricing on 1955 and earlier radios.
Wonderbar / Town & Country / Signal Seeking radios starting at $435
Auxialry input kit for CD Satellite radio, iPod, MP3, Tape, etc. - Add $25 each.
For 6 volt operation(Neg or Pos ground) - add $110.00
Conversion Radio Instructions in pdf booklet format

Radio Repair/Restoration
Electro-Tech can repair or restore your classic car radio. You decide to what level of restoration. If the car is going to be a daily driver, maybe all you want is electrical repair. However, if you have an early Corvette wonderbar, you probably want the radio to look and work like new. Here is a 1962 Corvette Wonderbar Radio that we have restored.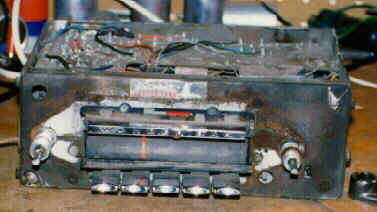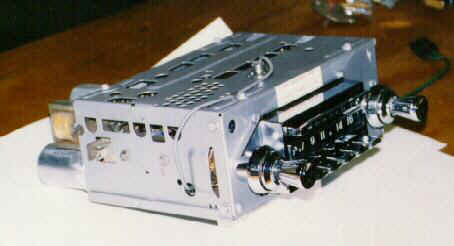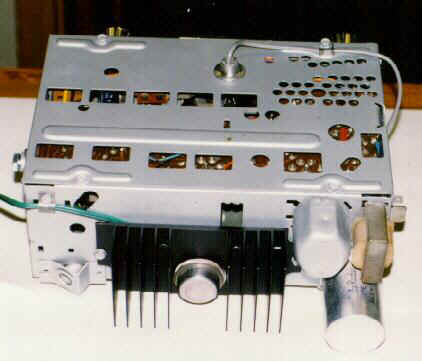 Before After

Radios, Parts and Tubes
Need a tube for your classic radio, we can supply it. We have over 6,000 radio tubes in stock - many NOS. Give us a call or send an e-mail with the tube number you need - we probably have it.
We carry a complete line of solid state vibrators for the old tube radios. Prices starting at $29.95.
We also have hundreds of classic car radios, cores and parts.